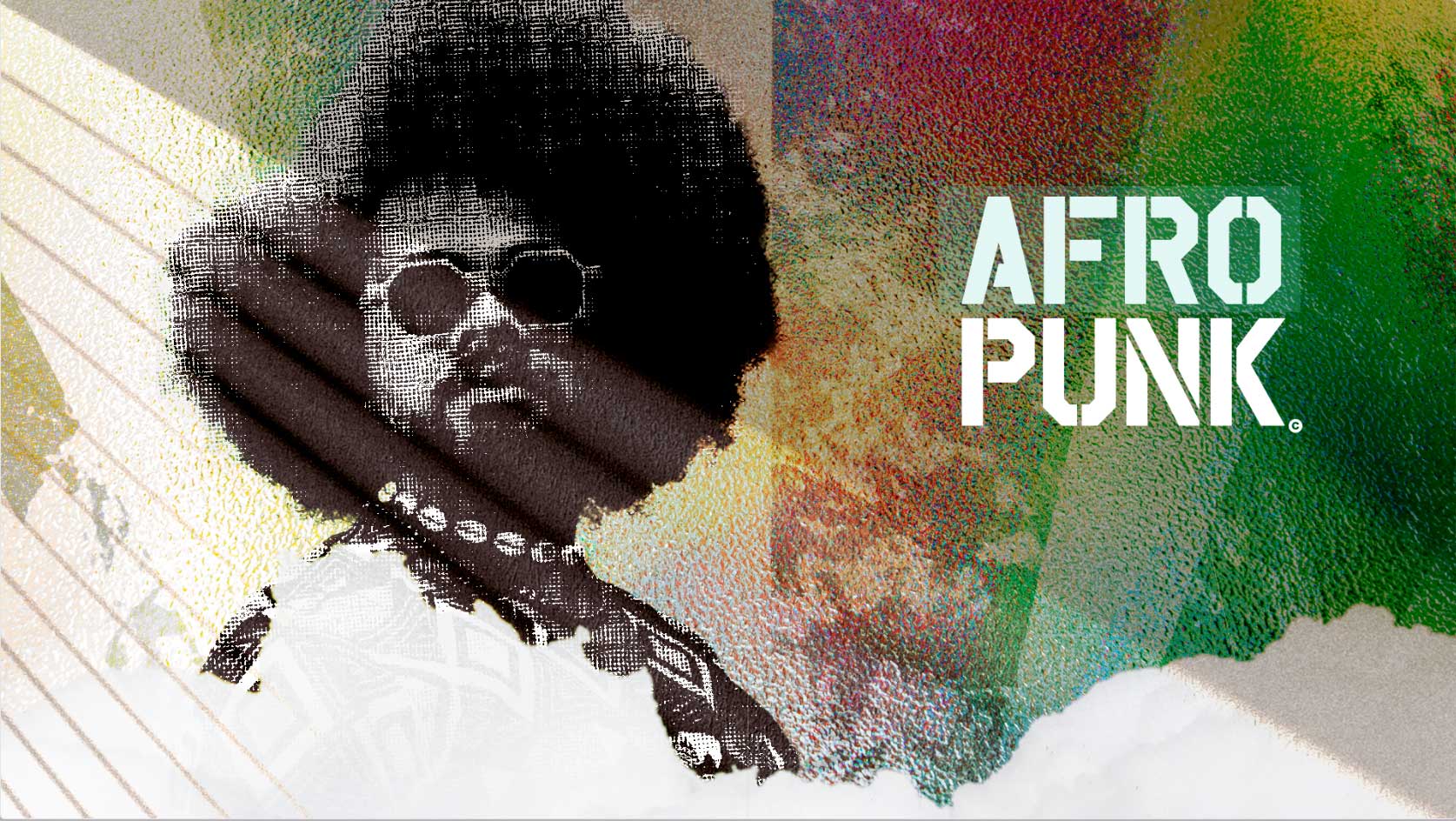 Uma plataforma de cultura e diversidade negra que entrelaça música, arte e conexões com a comunidade.
Por meio de shows, intervenções artísticas, exibição de narrativas cinematográficas, debates reverberantes e de mostras que exaltam empreendedores negres, o AFROPUNK se traduz em uma potência mundial.
Espalhando sua essência pelo mundo, é tanto uma interface de conteúdo de alcance global quanto um festival que reverbera em diversas metrópoles como Brooklin, Paris, Joanesburgo, Londres e Atlanta.
No Brasil, está em direção à terceira edição na cidade mais negra fora de África, que se destaca como um dos proeminentes epicentros culturais do mundo, especialmente
nas esferas da música, arte e gastronomia: Salvador.
Sábado – 18 de Nov
VICTORIA MONET | CARLINHOS BROWN CANTA ALFAGAMABETIZADO | DJONGA | GABY AMARANTOS | LUCCAS CARLOS CONV. O POETA | MAJUR | O KANNALHA | PIVOMAN E MANIGGA | TASHA & TRACIE FEAT. TATI QUEBRA BARRACO | TRAPFUNK & ALÍVIO E TASH LC
Domingo – 19 de Nov
IZA | AJULIACOSTA | ALCIONE CONVIDA MANGUEIRA | BAIANASYSTEM CONVIDA NOITE DIA & PATCHE DI RIMA | KAREN FRANCIS | KAYBLACK FEAT. MC CAVEIRINHA | LUNNA MONTTY | OLODUM | VANDAL
É hora de celebrar sua comunidade! Sejam bem-vindes ao AFROPUNK Bahia 2023!
Aqui, todo mundo vê e é visto. Sente e emana afeto. Na batucada do samba ou no groove da quebradeira, a roda é movimento, é suor, é energia.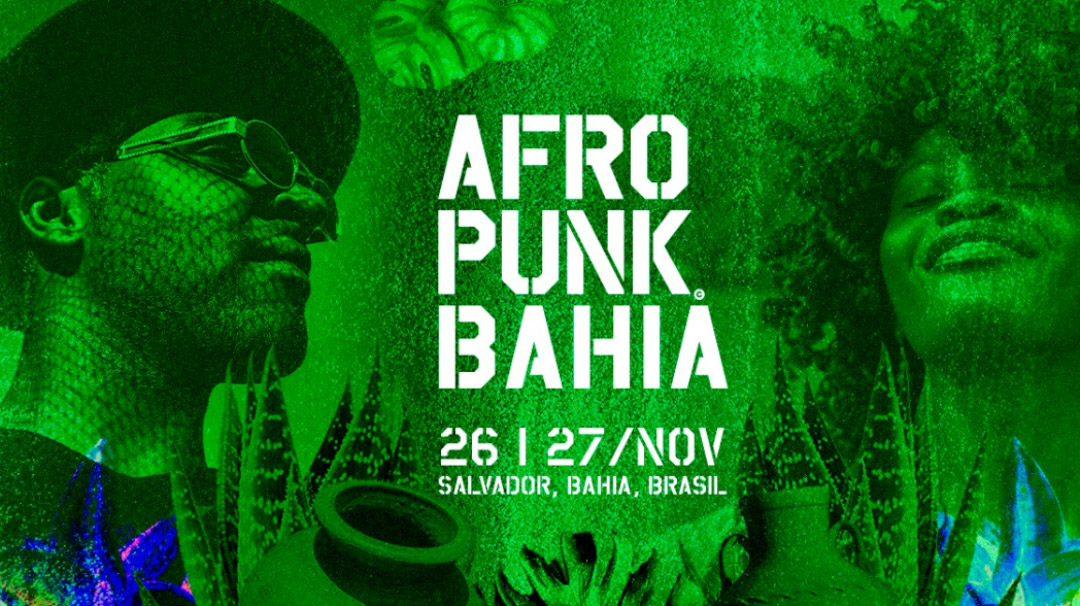 ID Works represents AFROPUNK in Brazil, connecting talent, brands and doing the executive production of the largest black culture festival in the world – which also has annual editions in NY, Atlanta, Paris, London, Johannesburg, Miami, Minnesota and Oakland.
AFROPUNK Bahia 2022
More than a movement
An ancestral meeting
More than a party
A celebration
More than a festival
An experience
Living AFROPUNK is unmatched.
In 2022, we come even stronger, insurgent and revolutionary! AFROPUNK Bahia will continue to boost the strength and beauty of the coupling of rhythms, experiences and cultures, creating an epic event.
AFROPUNK Bahia's quilombo is the place where our people express themselves in our diaspora trail in a radical act of self-love: forming a black circle in the blackest city outside Africa.
Circle of Samba, circle of Capoeira, Circle of Punk, and Circle of Xirê. Our circle has never stopped spinning since we got here. We will keep on spinning, breaking down borders, celebrating the gathering of generations and artistic expressions, praising the protagonists of blackness, uniting great talents to a legacy of history of fight and resistance.
We have a path of surprises ahead. Get ready!
The largest festival of black culture in the world brings together the most diverse forms of cultural expression of the African diaspora – flooded with attitude, resistance and power – and its mission is to build spaces for rescue, dialogue, reconstruction and revolution.
It was born as a manifesto, in the form of a documentary, which addressed black loneliness in the punk scene, racism, white privilege and the need for unity.
It has become a festival, expanding its possibilities to cover new musical genres – always with a Line Up of renowned black music artists and new talents. Today, it is a content platform, an aesthetic reference, and a social mobilization portal present on 4 continents. But, far beyond a festival, AFROPUNK is the audience, it's attitude, it's change, it's celebration.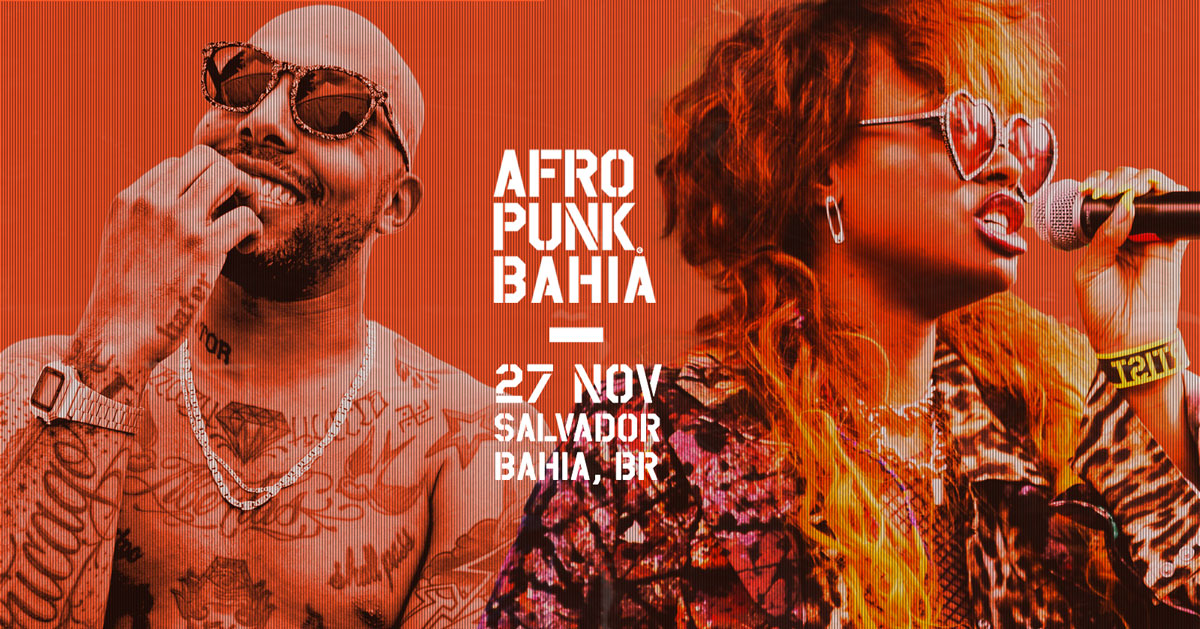 "Quilombo AFROPUNK Bahia" is the place where black people express themselves in the rhythm of the diaspora on a radical act of self-love: forming the "black circle". The circle is continuity, it's eye to eye. Making connections and seeing the magic happen. It's visual amplitude, where everyone sees each other and nobody is better than anybody is. With the sway of the tides serving as an amplifier of voices, we transformed the Convention Center of Salvador into a grand tour of celebration of Afro-Diasporic black culture.
Black Carpet
In AFROPUNK, the big stars are in the audience, casting their glow of beauty to the four corners of the globe. Then, the #BlackCarpet was born: a space to exalt the different ways of expressing black beauty.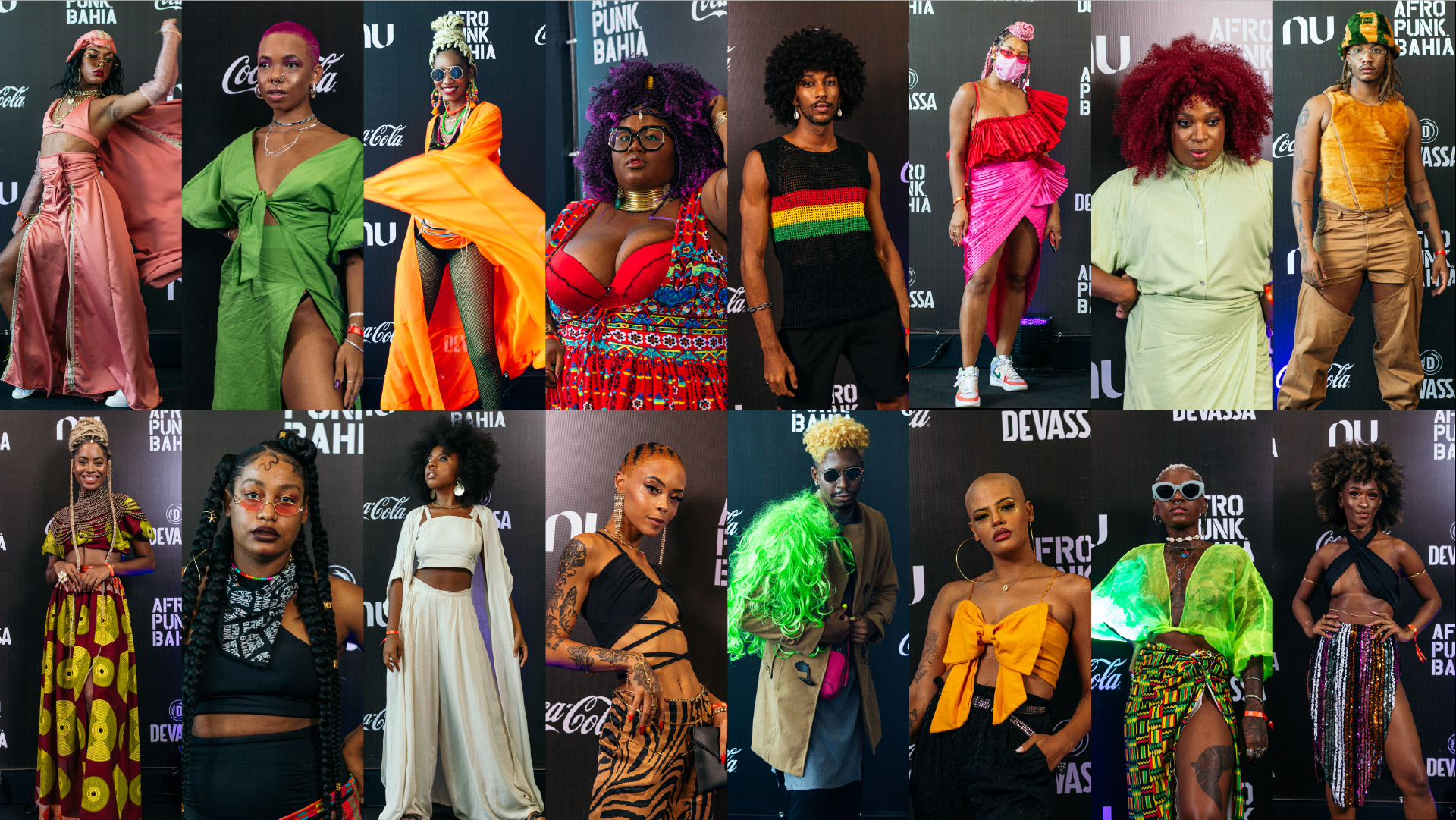 Feats
Asking permission of those who paved the way, there were meetings of different Brazilian black music generations, organized in a unique format adopted by the Brazilian edition. In this wheel, pioneers perform with black exponents of the contemporary music scene. The audience celebrated living ancestors, honoring their trajectories and recognizing their power.
AFROPUNK & Quabales
All income from ticket sales was donated to the project that was born in the "Nordeste de Amaralina", peripheral neighborhood of Salvador, and has promoted, for more than 20 years, the fusion between Bahian percussion and the language of STOMP. Including music theory, guitar, percussion, break dance, percussive performance, singing and electronic percussion, its differential is the production of unconventional musical instruments using recycled material – it is transforming garbage into culture, providing young people from the outskirts with the opportunity to learn and practice of an innovative aesthetic in the national art scene.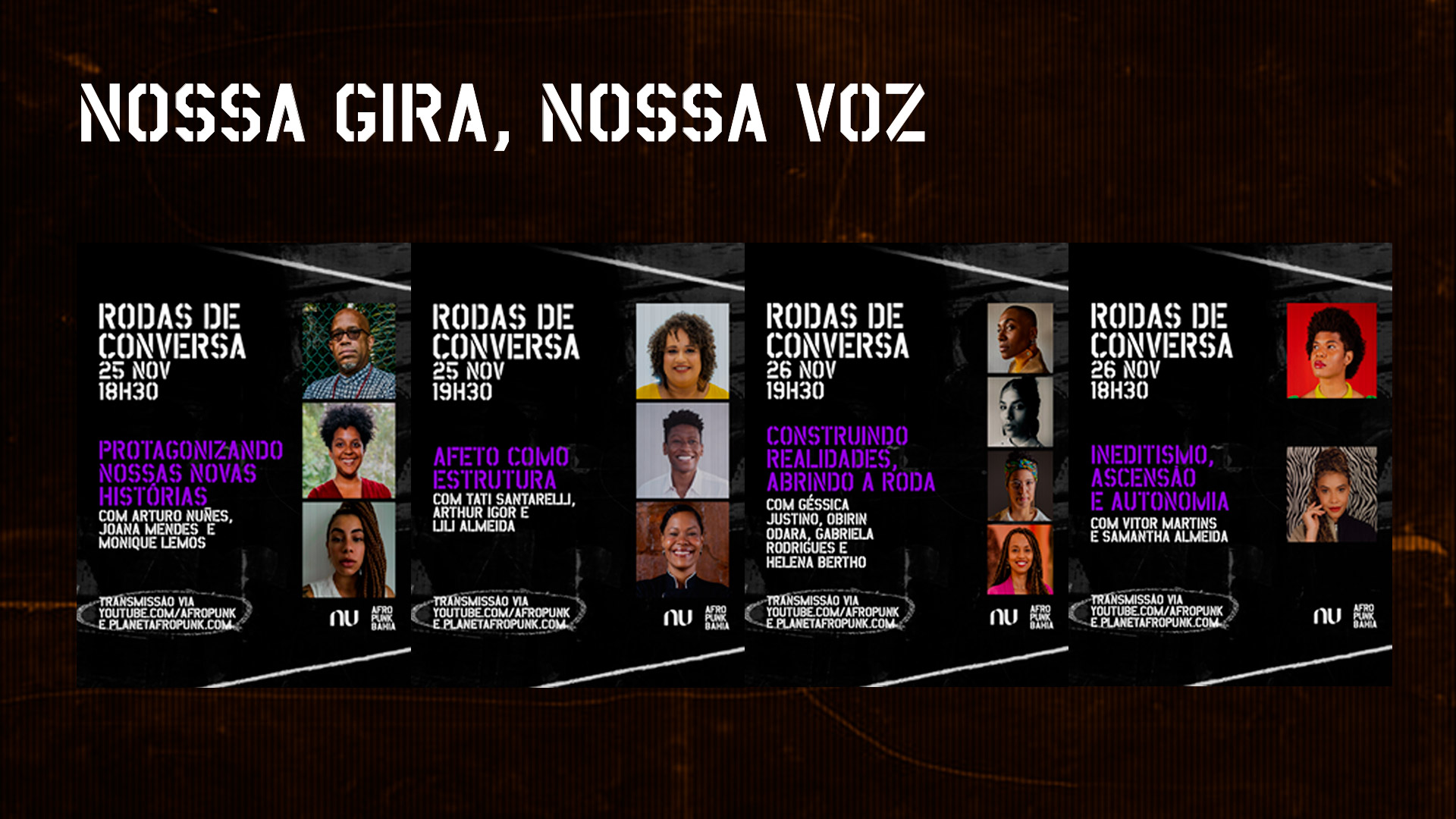 Talks
AFROPUNK BAHIA honored the legacy of those who came before and those who are here, exalting memory, bringing new interpretations of the past and building futures from the sharing and construction of affection, autonomy and power.
Occupying screens beyond the "black screens"
As it's a Festival planned a long time ago, interrupted by a Pandemic and still being born in a context that inspired care, AFROPUNK Bahia was, at first, designed in a 100% digital format. However, we wanted more than a broadcasted concert or recorded content. We wanted to give rise to a new movement. The format changed, during the collective construction, with the allowed releases, but the aim remained the same: to take the message to the whole diaspora, gather and celebrate.
APBA Open Call
Bringing together afro-indigenous artists from all corners of Brazil, AFROPUNK Bahia has become a showcase for audiovisual content that expresses the spirit of the movement. The result? More than 400 projects submitted to the Public Call that celebrate creativity and ancestry in innovative and creative ways.
AFROPUNK Miami BLack Spring 2021
Connections with Brazilian talents (Seu Jorge, Jup do Bairro, Black Pantera) and with brands.
Tiny Desk Meets AFROPUNK
Connection with the Brazilian attraction, Luedji Luna, in the special edition of Tiny Desk NPR, a partnership with AFROPUNK, to open the Miami Black Spring event.
Planet AFROPUNK 2020
Curation, conception, talent gathering, connection with brands, production and reports of Brazilian concerts; Curation and design of the 4 panels of "Solution Sessions Brasil".
Video
Bahia was the Brazilian host at the world festival and 100% online, presenting unpublished content recorded in Salvador, curated by Larissa Luz and with creative direction by Bruno Zambelli.
Line-Up: Larissa Luz feat Carlinhos Brown; Afrocidade feat Majur and Mahal Pita; Àttooxxá feat Hiran; Afropabho and Nessa; Trapfunk & Alivio & Yan Cloud; Duo B.A.V.I and Virus.
Talks: conducted by Monique Evelle, with the presence of Magá Moura, Morena Mariah, Guilherme Dias, Sauanne Bispo, Cíntia Ramos, Isaac Silva, Juliana Vicente, Lili Almeida, Luciellen Assis, Bielo Pereira and Sulivã Bispo.
Carnaval AFROPUNK Navio Pirata
Connection with brands, curation and organization of the "Trio AFROPUNK" at the Carnival in Salvador
AFROPUNK disembarked without ropes at the Carnival of Salvador aboard the "Navio Pirata" – the emblematic "electric trio" of BaianaSystem – on Saturday and Sunday. The public could check out the historic performances by Mano Brown and Afrocidade, who led an "electric trio" for the first time. Other artists who sailed during the two days of extreme emotions were Cronista do Morro, Afro Jhow, Vandal, BNegão and Iracema Killiane.
Photo gallery
Photos: Edgar Azevedo
Launching AFROPUNK Bahia
Connection with brands and talents
Mini festival at Audio, show house in Sao Paulo, held on November 19 and 20, 2019.
Line-Up: BaianaSystem, Baco Exu Do Blues, Aya Bass feat: Luedji Luna, Xênia França, Larissa Luz; Karol Conka, Rincon Sapiência, Black Pantera, Batekoo feat. Linn da Quebrada, MikeQ, House of Black Velvet, Aisha Mbikila, CeloDut DKVP, Young Piva, Virus.
Hosted by: Magá Moura & Linn da Quebrada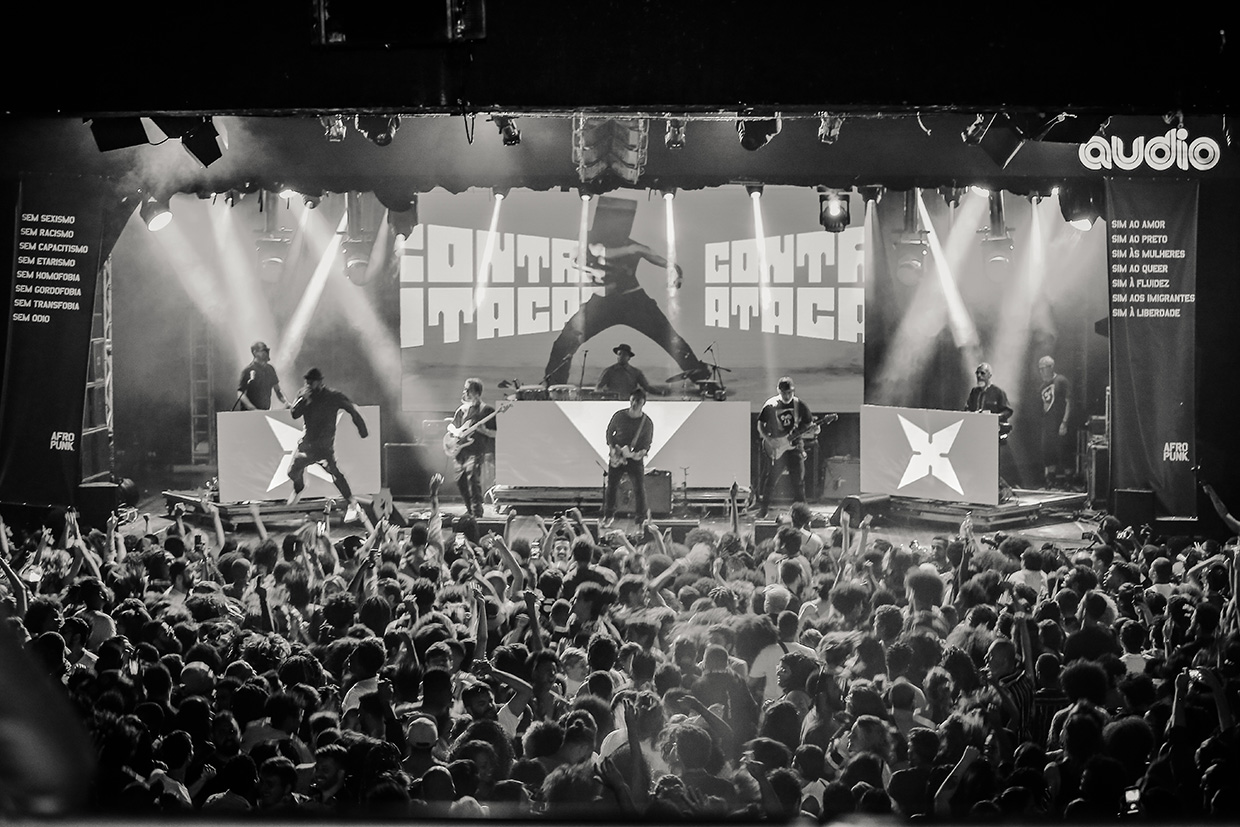 Photo gallery
Photos: Jef Delgado